You can set privacy zones in Strava that will be adhered to on JustGiving, so if you do not want to show maps on your Fundraising Page, you can set privacy zones that will help hide where you live. The fitness activities you do after this is set in Strava will come through to JustGiving with these privacy zones in place.
Why aren't my photos displaying in my fitness updates?
If you add photos via Strava after the fitness activity is already displaying on your JustGiving Fundraising Page, we unfortunately don't get notified and can't display these. We are currently working on a 'Re-sync' feature to allow you to manually re-sync individual fitness updates with Strava, which will then pull in any additional photos.
Until then, if you edit the title of the fitness activity in Strava, this will trigger this re-sync to automatically happen, and your photos should show.
Can I delete a fitness update?
Yes you can. There's a small drop down menu in the top right of every update, that includes the option to delete it from your Fundraising Page. You must be logged into your JustGiving account to do so.
Why are my fitness activities I share only with my Strava followers displaying on my Fundraising Page?
If you authorise JustGiving to view data about your activities on Strava, Strava sends us the activities your Strava preferences are set to share with both the public and to your Strava followers – but we give you choices on how JustGiving displays these activities. We give you flexibility on how your Strava data gets shared with and is visible on JustGiving.
Firstly, you can set your Strava display preferences for each of your fundraising pages, so your Strava data is only shown how and where you want.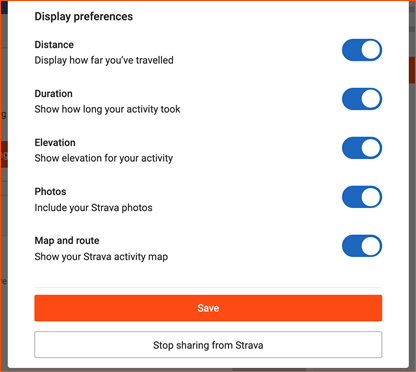 Secondly, if you don't want certain activities to be visible on JustGiving, you can delete individual posts on your Fundraising Page. You can also pause Strava activities from showing on your pages and delete particular activities from them too.
Finally, you can disconnect Strava from your JustGiving account, either by changing your preferences in your JustGiving account or by visiting the app setting controls in Strava.
You can read this article on how to disconnect or pause Strava activity from your JustGiving account.