If you've donated to a friend or family member's Fundraising Page, you can change your donation message and display name at any time, as well as hiding the donation amount from the fundraising page. 
Just enter the email address you used to donate and the donation reference number. You'll find this in the email receipt that we sent to you when you completed your donation.
You can change the message or anonymise old donations too, which will also remove them from other people's Feeds. Just log into your account and click on your name and 'Donations you've made' in the top right hand corner. Click 'Print' next to the relevant donation to find the donation reference number. 
Please make sure that you enter your donation reference number with a 'D' at the beginning. It should be in the format 'D12345678'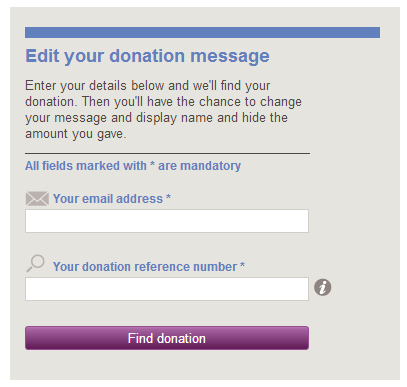 *Please note, if you made a donation directly to a charity or donated to a Crowdfunding Page, you'll need to contact us directly to get your message changed or removed.