A time limit adds urgency to your campaign, meaning more people will donate. Crowdfunding Pages usually raise most at the start and end of the campaign, so 30 days is suggested to keep up the momentum.
Need a bit longer?
No problem! As long as your page is still active, you can extend your page so that it's live for a maximum of 120 days in total. However, you should bear in mind that we're unable to transfer you the funds until after your page has closed.

To change your page duration, all you need to do is:
Head to your page (and log in if you aren't already)
Click on the 'Page settings' tab towards the top-left of your page
Choose your preferred end date
Click 'Save changes'

Here's what this will look like from within your account: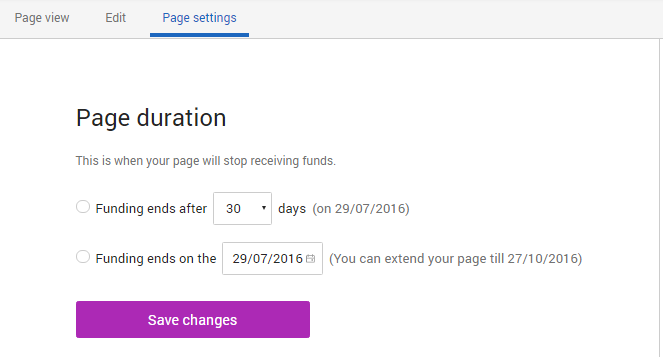 Need the funds sooner?
We understand that in some cases the funds are needed urgently. If you need us to close your page early in order to get the funds sooner, just drop us an email and we'll arrange this for you.